Whether you're planning a wedding, a corporate fundraiser or any other type of event in London, at Allens Hire we are dedicated to providing you with beautiful, high quality china and tableware to perfectly suit your table settings.
Our extensive china collections offer a range of different designs; from contemporary to classic motifs and blends hard-wearing designs and durability with elegance; our team strive to provide you with new collections and exceptional value whatever your china hire requirements may be. Here are just some of the stunning new china products which have hit the Allens catalogue in recent months.
Villeroy & Boch
Villeroy & Boch are famous for their outstanding quality and innovating design. They have been designing tableware for fine dining since 1748. This German brand has been a favourite with the great and the good for generations. Allens Hire are excited to introduce three new ranges to compliment our initial range of Stella Coupe plates.
Villeroy & Boch Stella Rimmed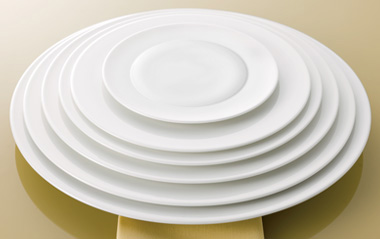 The Stella Rimmed collection is a classic, yet elegant dinner set that is perfect for any event. Made of premium bone porcelain, this delicate looking yet durable range will bring harmony to your table setting. Available in 30cm, 28cm, 24cm and 16cm, the Stella rimmed range from Villeroy & Boch is perfect for all occasions including large-scale banquets, networking events and themed buffets.
Villeroy & Boch Vogue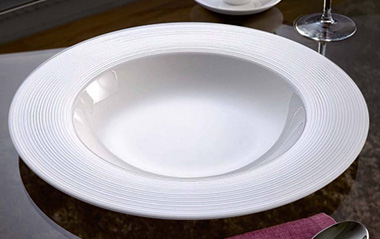 With its white-on-white textured design, the Vogue collection from Villeroy & Boch features a spectacular 30cm plate and a 29cm deep plate. Vogue is a highly versatile range, which can be combined with our other Villeroy & Boch china.
Villeroy & Boch Modern Grace
To top off our trio of new ranges from Villeroy & Boch, we introduce the Modern Grace collection, featuring two stunning square plates, perfect for those showcase dishes! Available in 27cm x 27cm and 23cm x 23cm sized plates.
William Edwards Gold and Silver
Exclusively designed for Allens Hire by renowned designer William Edwards, these two magnificent 30cm plates in gold and silver are perfect for displaying showstopping dishes as well as enhancing your tableware as a charger plate.
Jars Stoneware
Full of character and texture, our Jars stoneware will give your event the splash of colour it needs. Made of beautiful stoneware pottery that has been fired at the highest of temperatures, Jars' dinnerware brings rustic and earthy tones to Allens china collection. Jars Stoneware, based in Anneyron, close to Lyon in eastern France, has been making pottery for 150 years. Each item is handmade and glazed meaning no two plates are the same. Allens collection of Jars Stoneware has been expanded with three new plates: Dark Blue, Ecorce, Grey Cashmere and Natural Samoa, complimenting the collection of Rosemary, Ginger, Truffle, Blue Chardon, Cerise, Orange, Purple, Snow, Celeste, Vuelta Pearl and Atoll.   
If you're not sure which china collection is right for your event, or you need advice on quantities, give us a call on 020 8574 9600 (London) or 023 8065 2316 (South Coast); alternatively, you can email us on enquiries@allenshire.co.uk.