Everyone's favourite time of year is just around the corner and whether you're looking for catering equipment and furniture for an office Christmas party, or a spectacular festive dinner with great friends, Allens Hire has some fantastic tableware, glassware and furniture to help make your seasonal shindig that little bit more special. Whether you're a company in search of catering equipment or a party planner that needs furniture and table linen to sit perfectly with your venue's décor – we've got you covered.
Here's 'What's Hot' this party season.
Glassware – and lots of it.
With the rise of the gin balloon and other weird and wonderful cocktails in 2019 – it's important that your glassware game is on point at any of your festive events – because as we enter another decade, one glass definitely doesn't fit all. Introduced in 2018, our Riedal Bar Collection has just about everything you'd need to accommodate every festive tipple – whether that's a tumbler to hold a Baileys on the rocks or a sour glass for a party perfect gin sour.
Gold table settings
If there's ever any time of year where going full golden glamour needs no excuse – it's definitely Christmas. Gold, red and green are the traditional colours of Christmas, so why not incorporate a little sparkle into your festive get together? New in for the festive season is the beautiful Sambonet Versailles Gold Cutlery range which will make a striking addition to your festive table layout. Remember the little details really do matter and nothing says Christmas like eating with gold cutlery. If you're in for a penny, you're in for a pound - so team golden cutlery with our William Edwards gold and silver plates, exclusively designed for Allens and perfect for a delicious festive banquet.
New colours
Smoky blues, midnight tones and navy have joined the party for Christmas 2020 - note: alongside red, green and gold, not instead of. Our Kew linen in smoke blue is the perfect choice for anyone wanting to add of one of the season's hottest colours to their festive party, whether that's a pop of smoky blue in the form of a napkin, or blue becoming the base of your table setting in tablecloth form. Don't need linen? Try bringing this colour trend through in the form of coloured glassware with our Hue Design range.
The rise of the grazing table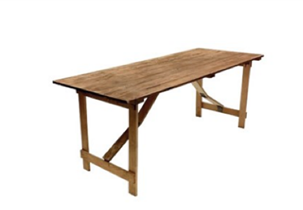 As 2019 progressed, we saw less and less of sit-down meals at parties and events and more of grazing table situations where people could leisurely help themselves to tables full of delicious food. The grazing table is a fantastic idea to have at your Christmas party, whether you're providing savoury delights such as cheeses, chutney, pigs in blankets and slices of nut roast or you've got visions for a sweet selection including mince pies and Christmas cake. However, nothing can sit on top of your grazing table without the table itself and new in at Allens we have rustic style trestle tables that will make the perfect base for your foodie delights. 
No matter the theme or style of your event, we have something at Allens Hire that will suit it perfectly. Browse through our latest products or get in touch today.